Offering Teeth-in-a-Day with Mini Dental Implants
Considered the superior tooth replacement solution, dental implants provide patients with a number of unique benefits, like no denture slippage and decades of restoration support. Some patients may not qualify for traditional dental implants because they lack the requisite jawbone tissue to retain the implants. Fortunately, such patients may be eligible for mini dental implants, which require less tissue. Drs. Ira Shapira, Mark Amidei, and Richard Cottrell of Delany Dental Care in Gurnee, IL, can provide mini dental implants therapy as part of their full complement of implantology services.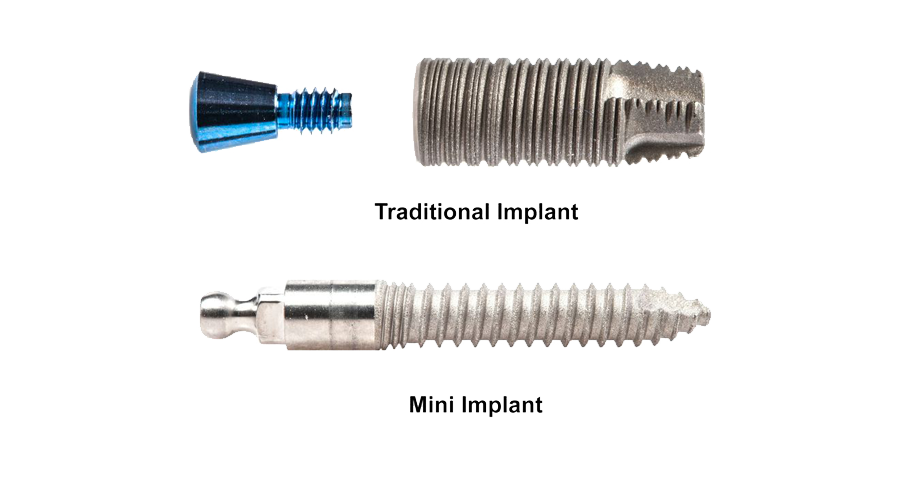 A Closer Look at Mini Dental Implants
Like traditional implants, mini dental implants involve surgically implanting titanium posts into the jawbone, and then attaching dental prosthetics to the posts. Mini implants differ from traditional implants mainly in that the post diameter is smaller, requiring less healthy jawbone to anchor them.
As part of the traditional implant placement process, several months of healing are needed to allow the jawbone to fuse with the post. This process is called osseointegration, and must be complete before permanent restorations can be placed. Alternatively, thanks to their smaller post diameter, mini implants can support restorations before osseointegration is finished. In fact, many patients can receive their mini implants and have dentures attached at the same appointment for convenient "teeth-in-a-day."
Mini Dental Implant Advantages
Reasons for choosing mini dental implants as your tooth replacement treatment could include:
Avoiding bone grafting surgery: Patients with insufficient jawbone tissue may avoid a bone grafting procedure, which may be necessary for them to receive traditional implants.
Same-day dentures: Many patients can have their implants placed and restored in one convenient appointment.
Reduced risk of complications: Placing mini implants involves a minimally-invasive surgical technique, which reduces risks and healing times.
Mini implants differ from traditional implants mainly in that the post diameter is smaller, requiring less healthy jawbone to anchor them.
Unmatched security: Implant-retained dentures are firmly anchored, so you can live life with the full confidence your prosthetic will not slip out of place.
Halting jawbone atrophy: Your implants will effectively replace your tooth roots and stimulate the nearby jawbone, putting an end to the jawbone deterioration that is generally associated with tooth loss.
Decades of support: Mini dental implants can last for decades, with the proper maintenance.
Evaluating Your Candidacy
To determine your candidacy for mini implants, our dentists will review detailed images of your mouth and jaw and conduct a thorough evaluation of your oral structure. Candidates should be free from gum disease and in good enough overall health to undergo a minor surgical procedure.
Additionally, mini implants are a cost-effective option, compared to traditional implants. While mini implants are very reliable, they are not quite as stable as traditional implants. Working with your dentist, you can decide if mini implants, traditional implants, or another tooth replacement option is right for you.
Learn More Today
Our dentists work closely with patients to design restorative treatment plans that meet their oral health needs, preferences, and budget. To determine your candidacy for mini dental implants, call us at (847) 623-5530, or contact us online.